2 Bedroom Apartments in Fremont, CA
If you're looking to thrive in the heart of Fremont, CA, Palmia has 55+ two bedroom apartments that offer modern luxury and a beautiful bay area setting, exclusively for active adults age 55 and over.
These 2 bedroom apartments will allow enough space for family members and guests, an office, or a quiet relaxation area. It's perfect for active adults that want to live in a cozy yet easy-to-maneuver environment./p>
Are you ready to transition into independent senior living? Call today and learn more about this exclusive community designed just for you!
Amenities Galore in our Two Bedroom 55+ Brand New Apartments
Palmia's Fremont pet friendly apartment homes offer inviting, upscale features for our 55+ residents. Our upgraded kitchens feature under cabinet lighting, high-end appliances, and contemporary fixtures.
Quartz countertops create a clean, modern look in the bathroom, while hardwood-style flooring throughout the unit adds style from room to room. Enjoy views from private balconies that allow you to relax and unwind with your family or curl up with your favorite book.
Palmia's community amenities feature a state-of-the-art fitness center and a yoga studio to stay in top shape. You can always relax at the pool and spa while socializing with the neighbors. We also have an on-site movie theater with comfy lounge chairs to put a cherry on top of an active day under Fremont's blue skies and sunny days.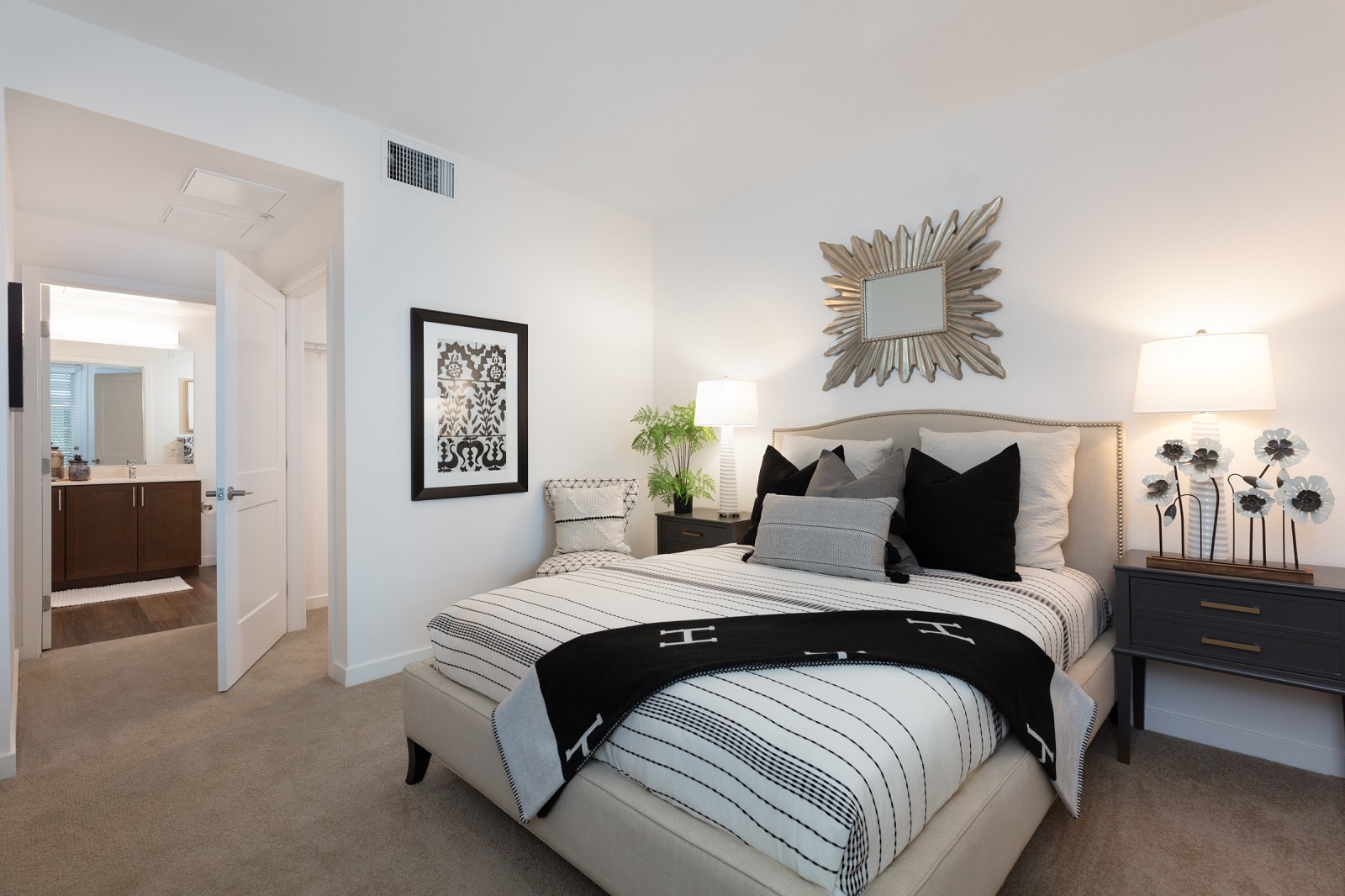 An Active Lifestyle Awaits
Palmia, 55+ apartments in Fremont, CA are part of a new generation of senior living that's redefining what it means to be 55 or better. It's all about enjoying life on your own terms with the freedom to choose how you want to spend your time. We offer a wide range of amenities and services that make it easy for our residents to live well and embrace the best of active adult living.
You'll find an array of amenities and services specially designed for our residents. Whether you're looking for an invigorating workout or just a little relaxation by the pool, our Fremont brand new senior apartments have it all. Enjoy views from the sundeck or take a dip in our one-of-a-kind pool; we have something for everyone here at Palmia.
Independent Living for Active Adults in Fremont
Fremont should be at the top of your list if you are searching for the perfect place to flourish in California. Located one hour from San Francisco on the BART, this city provides an excellent setting for enjoying your golden years.
Give us a call or schedule a tour today of our 2 bedroom brand new senior apartments in Fremont, CA. We'll help you discover the joy of independent living at Palmia.
Legacy Partners Privacy Policy
Thank you for visiting Legacy Partners' ("Legacy Partners") Internet web site ("Site") located at the URL https://www.palmiaapts.com/. This Privacy Policy details certain policies implemented throughout Legacy Partners governing Legacy Partners' collection and use of personally identifiable information about users of our Site and our services. Legacy Partners respects the privacy of consumers and is consistent with the requirements of the California Consumer Privacy Act of 2018 ("CCPA"), including users of our website and those who contact us electronically, telephonically or in person in connection with the potential or actual rental of a housing unit and/or related services and opportunities. Please read this privacy policy carefully. If you do not agree to the terms of this Privacy Policy, please do not access the site, telephone us in response to an advertisement or provide us any personal information electronically, telephonically, in person or by any other means.
Privacy Policy Updates
Due to the Internet's rapidly evolving nature, Legacy Partners may need to update this Privacy Policy from time to time. If so, Legacy Partners will post its updated Privacy Policy on our Site along with a change notice on the Site. Legacy Partners encourages you to review this Privacy Policy regularly for any changes. Your continued use of this Site and/or services and/or your continued provision of personally identifiable information to us after the posting of such notice will be subject to the terms of the most current Privacy Policy.
Information Collection
You can generally visit our Site without revealing any personally identifiable information about yourself. However, in certain sections of this Site, we may require you to submit your personally identifiable information to us and we may invite you to submit questions, comments and request information.
Due to the nature of some of our services, you may provide us with personally identifiable information such as your name, email address, social security, driver's license number, passport number, address, phone number, and or similar identifiers, professional or employment-related information, including income, and education information that you voluntarily give to us when you register with our Site or when you choose to participate in various activities related to the Site, such as contact forms, availability and pricing inquiries, online chat and message boards, electronic payments, and/or request or access services relating to a rental housing unit.
You are under no obligation to provide us with personal information of any kind on the Site; however, your refusal to do so may limit or prevent you from using certain features of the Site or prevent us from communicating with you. Some categories of personal information will be required if you decide to apply for or rent a housing unit.
Information Use
We may use your personally identifiable information to deliver our services or information you have requested, verify your authority to enter certain password protected areas of the Site, verify that you are a customer or prospective customer, send you information that you have signed up to receive, notices about our products and/or services that you have used or that may be of interest to you and notices about events, and improve the content and general administration of the Site and our services.
If you are a user of our services, we may use your personally identifiable information to provide these services to you.
Cookies
We may use cookies, web beacons, tracking pixels, and other tracking technologies on the Site to help customize the Site and improve your experience. When you access the Site, your personal information is not collected by tracking technology. Most browsers are set to accept cookies by default. You can remove or reject cookies and may still use our Site, but your ability to use some areas of our Site may be limited.
If you would prefer not to accept cookies, most browsers will allow you to: (i) change your browser settings to notify you when you receive a cookie, which lets you choose whether or not to accept it; (ii) disable existing cookies; or (iii) set your browser to automatically reject cookies; however, doing so may negatively impact your experience using the Service, as some features and services on our Service may not work properly.
Third Party Analytics Tools
Beyond the personally identifiable information you voluntarily provide to us, Legacy Partners utilizes analytics tools including third party technologies, such as Google Analytics, to collect non-personally identifiable information utilizing cookies. Certain types of information, including geolocation, device type, onsite website usage and behavior, demographic data, and purchase history, is collected and aggregated across Legacy Partners Site users for our analysis and advertising efforts.
Legacy Partners uses Remarketing with Google Analytics and Google Adwords to display relevant advertisements to users who have previously visited our Site. Referred to as remarketing or retargeting, Legacy Partners may utilize previous session information to serve display advertisements to you on the Site and based on such session information Google may set a cookie and serve ads to you on third party websites on the Google Display Network. Third party vendors such as Google may display Legacy Partners ads on websites across the Internet. Aggregated user data may be utilized to create remarketing/retargeting "lists," or groups of users with similar onsite behaviors or demographics.
Legacy Partners also uses Google Display Network Impression Reporting and Google Analytics Demographics and Interest Reporting and Interest-Based Advertising to display advertisements to users based on their inferred interests and demographics. Legacy Partners does not run interest-based advertising campaigns that collect personally identifiable information.
Users may learn more about Google Analytics use of cookies by visiting the Google Privacy and Terms page at https://www.google.com/policies/. You may opt out of being tracked by Google Analytics by i) Turning off cookies in the preferences settings in your browser ii) Downloading the Google Analytics opt-out browser add on available at: https://tools.google.com/dlpage/gaoptout/ iii) Opting out of user interest and demographic categories in the Settings for Google Ads feature to manage or opt out of Google interest based ads at: or iv) Managing cookies used for online advertising across multiple companies at the US-based Network Advertising Initiative at https://www.networkadvertising.org/choices/.
Aggregate Information
The Site may track the total number of visitors to our Site, the number of visitors to each page of our Site, browser type, IP addresses, External Web Sites (defined below) linked to and other aggregated data collected through our services and we may analyze this data for trends and statistics in the aggregate but such information will be maintained, used and disclosed in aggregate form only and it will not contain personally identifiable information. We may use such aggregate information to analyze trends, administer the Site, track users' movement, and gather broad demographic information for aggregate use.
Disclosure of Personally Identifiable Information
We may provide your personally identifiable information and the data generated by cookies and third-party analytics tools and the aggregate information to the vendors and service agencies that we may engage to assist us in providing our services to you.
We will disclose your personally identifiable information if we reasonably believe we are required to do so by law, regulation or other government authority or to assist in any investigation, to protect our or our users' rights or to enforce our terms of use. We will not sell your personally identifiable information to any company or organization except we may transfer your personally identifiable information to a successor entity upon a merger, consolidation or other corporate reorganization in which Legacy Partners participates or to a purchaser of all or substantially all of Legacy Partners' assets to which this Site relates.
Links to Third Party Service Providers
We may share your information with third parties that perform services for us or on our behalf, including third-party utility billing providers, package/locker service providers, valet trash providers, concierge service providers, cable companies, payment processing, data analysis, email delivery, hosting services, customer service, and marketing programs and services that benefit your rental home. You acknowledge that Legacy Partners is providing these links to you only as a convenience, and further agree that Legacy Partners is not responsible for the content of such External Web Sites. Your use of External Web Sites is subject to the terms of use and privacy policies located on the linked to External Web Sites.
Children's Privacy
Legacy Partners recognizes the privacy interests of children and we encourage parents and guardians to take an active role in their children's online activities and interests. Neither our Site nor our services are intended for children under the age of 18. Legacy Partners does not target its services or this Site to children under 18. Legacy Partners does not knowingly collect personally identifiable information from children under the age of 18. By using our Site, you represent that you are not under 18 years of age.
Security
We may employ industry standard procedural and technological measures that are reasonably designed to help protect your personally identifiable information from loss, unauthorized access, disclosure, alteration or destruction. Legacy Partners may use, without limitation, firewalls, password protection, secure socket layer, and other security measures to help prevent unauthorized access to your personally identifiable information.
OPTIONS REGARDING YOUR INFORMATION
Emails and Communications
If you no longer wish to receive correspondence, emails, or other communications from us, you may opt-out by contacting us using the contact information provided below.
If you no longer wish to receive correspondence, emails, or other communications from third parties, you are responsible for contacting the third party directly.
California Privacy Rights
The CCPA, codified at California Civil Code Section 1798.100 et seq., permits our users who are California residents to request and obtain from us, no more than twice in a twelve-month period and free of charge, information about:  (1) the categories of personal information we collected about the user, (2) the categories of sources from which the personal information is collected, (3) the business or commercial purpose for collecting the personal information, (4) the  categories of third parties with whom the business shares personal information, and (5) the specific pieces of personal information we collected about you. Information will be provided within 45 days of receiving a verifiable consumer request.
In the preceding 12 months, we have collected the personal data referenced above, which has been used and disclosed in the manner described above and for the purposes described above.
The CCPA defines "selling" and "sold," to mean "selling, renting, releasing, disclosing, disseminating, making available, transferring, or otherwise communicating orally, in writing, or by electronic or other means, a consumer's personal information by the business to another business or a third party for monetary or other valuable consideration." Cal. Civ. Cod § 1798.140(t). Some of the disclosures identified above may be considered "selling" under this definition.  You have the right, at any time, to direct us not to sell your personal information.  This right is referred to as the right to opt-out.
If you are a California resident and would like to make a request for disclosure or exercise your right to opt-out, please submit your request by using the contact information provided below, which includes two or more designated methods for submitting requests for information including a toll-free telephone number, although we would encourage you to make your request in writing via either electronic or U.S. mail. We will not discriminate against you for exercising any of your rights under the CCPA.
In addition, California Civil Code Section 1798.83, also known as the "Shine The Light" law, permits our users who are California residents to request and obtain from us, once a year and free of charge, information about categories of personal information (if any) we disclosed to third parties for direct marketing purposes and the names and addresses of all third parties with which we shared personal information in the immediately preceding calendar year. If you are a California resident and would like to make such a request, please submit your request in writing to us using the contact information provided below.
Contact Us
If you have any questions regarding this Privacy Policy or wish to make any requests with respect to your personal information, please contact us at: privacy@legacypartners.com or Toll-free Telephone number: (833) 329-0076
Legacy Partners
Attn: CCPA Request
950 Tower Lane, Suite 900
Foster City, CA 94404
This Privacy Policy was last updated: June 2020.
Commitment to Digital Accessibility
 
We are dedicated to providing an equivalent digital experience for all website users, regardless of physical or cognitive ability. To uphold our commitment, we adhere to the Website Content Accessibility Guidelines (WCAG) 2.1, Level AA standards in the design, testing and development of our website experiences. The WCAG 2.1 Level AA standards are recognized and acknowledged as the international standard measure of success.
 
We make it easy to navigate our website by supporting assistive technologies such as screen readers, magnifiers, and voice recognition software. Our digital standards, design and development teams regularly collaborate to ensure we follow accessibility best practices, and consult with accessibility and usability specialists, and people with disabilities to make sure our sites function properly and that we continue to learn as technology expands. These efforts help ensure that our content is available to all, including those who rely on assistive technology.
 
We Are Here for You
 
We are always learning. We consistently look for improvements in performance, speed, and accessibility.  If you are having difficulty using this website because of a disability or have an issue to report, we are here to receive your feedback and provide you with access to all of the information and functionality on this website. Please contact us using the form on our Contact Us page or by the email/phone number located on our website.